The Sharks of Thailand
By Lars Bindholt
Home Species Grey reefs where?
Grey Reefshark (Carcharhinus amblyrhynchos)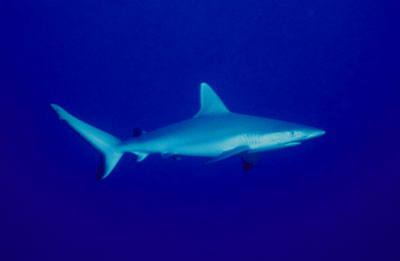 A young Grey Reefshark near Pachumba Island, Surin Islands.
Just a few years ago this shark was very common many places in the world where you could find deep water with good water circulation. Now it is getting very rare.
Not at all a common shark in Thai waters anymore. A beautiful muscular shark shaped as the Silvertip Shark and the Blacktip Reefshark, which it is very closely related to. A fat shark with a black band on the posterior part of the tail and no black tip on the dorsal fin is a Grey Reefshark. Always look for that black band on the tail. The first dorsal fin, which is taller than that of the Silvertip, has often a small white tip.
The Grey Reefshark is not seen around the Similans Islands often, but Chicken Hair Reef was before occasionally visited by big Grey Reefsharks. A small group of juveniles could for some months be found on the reef just north of Island no. 6. Apart from these places I have seen Grey Reefsharks at Hin Daeng, Elephant Rock, Koh Born, Koh Tachai and the Surins. If there is any hope of a glace at the moment the best place is probably the south side of Pachumba Island (Surins). Hin Daeng is no more an obtion.
The incredible slaughter of sharks for the chineese fin soup, which occur everywhere today even on the most remote small islands, has effectively killed off more than 90 percent of our sharks
Grows to 2,4 m.